CLOSED: #FreeCDGiveaway – Corb Lund 'Cabin Fever'
Posted by:
Top Country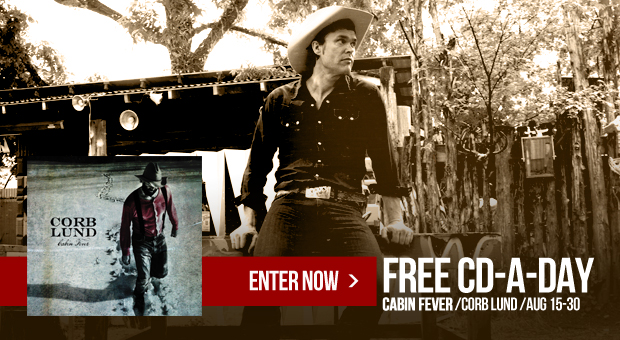 The #topcountry #freecdaday Giveaway: Every week day Top Country gives away a free CD to one lucky fan! Simply enter your name and email into the draw for your chance to win. Enter once and your eligible for the draw each day until the end of the promotion period. *
Every week day we showcase the day's winner on our homepage! Check back each day to see if you've won!
Featured Free-CD-A-DAY Giveaway
Corb Lund – Cabin Fever Promotional Period
Open: August 15, 2012 | Closed: August 30, 2012
Total: 12 weekdays, 12 CD's
Winner's will be contacted by email at the end of each week. Winners will be asked to supply their mailing address so we can ship the CD free of charge! We will notify you when the CD's will be shipped.
WEEK 1 WINNERS
*Began Wednesday, August 15
1. Wednesday, August 15: Kevin Wall
2. Thursday, August 16: Dena Michaelis
3. Friday, August 17: Jason Welin
WEEK 2 WINNERS
1. Monday, August 20: Annette Matisz
2. Tuesday, August 21: Eric Schowenfeld
3. Wednesday, August 22: Nicholas Suehrcke
4. Thursday, August 23: Bob Diebler
5. Friday, August 24: David Stanley
WEEK 3 WINNERS
Week 3′s winners check your emails!
CONTEST IS NOW CLOSED./h1>