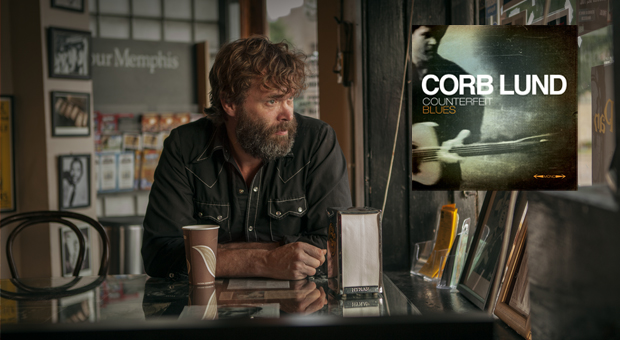 Corb Lund has announced that he will be releasing his new album Counterfeit Blues on June 17th, 2014 in Canada and on Canada Day (July 1st) in the U.S..
The album was recorded live from the legendary Sun Studios in Memphis, TN and features re-cut fan favourites from some of Lund and the Hurtin' Albertans' early albums – 2002's breakthrough Five Dollar Bill, their first gold record in Canada, and 2006's Canadian Country Music Association's Album of the Year, Hair In My Eyes Like A Highland Steer.
Lund describes the album as "raw, organic and dirty".
"It turned out really well. Partly because we know the songs inside out and have played them live a thousand times and partly because recording at Sun is a very old fashioned, low-tech process that ends up sounding really great if you can pull it off. My band has been playing behind me for ten years or more, with all the same members so it was a great way to capture the live chemistry we've developed over many, many tours. You can't fake that."
Counterfeit Blues will be available on CD, vinyl and digital download and also as a special two-disc CD/DVD set comprised of the documentary "Memphis Sun", which originally aired this past December on CMT Canada. The DVD will also feature three bonus tracks – "Bucking Horse Rider", "Good Copenhagen", and "Shine Up My Boots" – that weren't included on the original broadcast.
Check out the CD & DVD track lists below! Will you be picking up a copy of Counterfeit Blues on June 17th?
Counterfeit Blues Track List 
1. Counterfeiters' Blues
2. Good Copenhagen
3. Big Butch Bass Bull Fiddle
4. Hair In My Eyes Like A Highland Steer
5. Little Foothills Heaven
6. Five Dollar Bill
7. Buckin' Horse Rider
8. Hurtin' Albertan
9. (Gonna) Shine Up My Boots
10. Truck Got Stuck
11. Roughest Neck Around
12. Truth Comes Out
"Memphis Sun" DVD Track List
1. Hurtin' Albertan
2. No Roads Here
3. Little Foothills Heaven
4. Counterfeiters' Blues
5. Roughest Neck Around
6. Big Butch Bass Bull Fiddle
7. Hair In My Eyes Like A Highland Steer
8. Truck Got Stuck
9. Truth Comes Out
10. Five Dollar Bill
Bonus Videos
1. Buckin' Horse Rider
2. Good Copenhagen
3. (Gonna) Shine Up My Boots