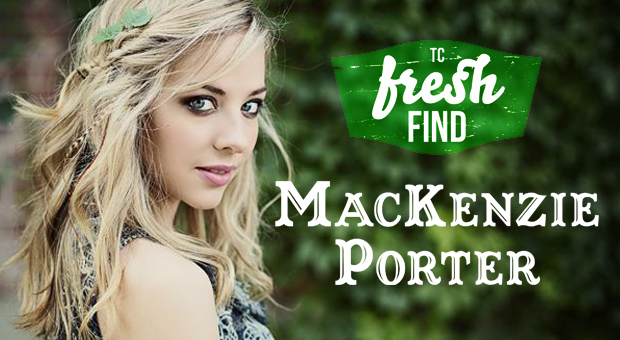 Actress and new face on the country music scene, MacKenzie Porter recently sat down with Top Country to chat about her musical memories.
Q
Your debut single 'I Wish I'd Known' climbed the charts recently. Describe the feeling of watching it climb week after week.
A
Watching "I Wish I'd Known" climb the charts has been unbelieveably exciting and an incredibly rewarding feeling. I spent a lot of time with this song in the studio and I was extremely anxious when it came time to release it to radio and the public. This was my first single!! The first glimpse of who I am and what I want to say with my music!! To have people respond to it the way they did and hear all the positive feedback has been truly amazing.  I've received hundreds of messages through my website/youtube/twitter/facebook about how my song has touched people or how they have related to it. This has been far more rewarding than watching it climb the charts!!
Q
Where would you like to see yourself in a year?
A
In a year, I hope to be putting the finishing touches on an album and perhaps in the middle of a sold-out tour…haha!! I've got pretty big dreams!!  I also hope to be spending more and more time in Nashville writing for myself and for other artists.
Q
Favourite musical memory so far?
A
One memory which stands out in my mind is when I got to open for Kenny Chesney. It was the first "Big Stadium" show I had ever done. I remember waiting backstage and hearing the crowd go crazy. I also remember almost throwing up…. I was so nervous.
Q
Who's been your biggest influence?
A
I listen to every type of music…from Rap to Country. Growing up, I was heavily involved in classical music so I think that might be my biggest influence. I would like to incorporate some classical into country :)
Q
When can fans expect an album?
A
Hopefully 2014 will be the year!
TC's Fun 4
1. First thing you notice about people? – TEETH TEETH TEETH… A beautiful smile. :)
2. One album you can't live without? – The Very Best of Aretha Franklin … I love her! I clean my house to it, cook to it, dance to it. I know every word!
3. Favourite city? – This is a hard one. I have been fortunate to travel a lot in my life, whether it be with family on vacation or through work. Lately however, I've been spending a lot of time in Nashville and I absolutely love it there!!
4. Biggest pet peeve? – People who talk really loud about nothing in particular or incessantly gossip.
[mycred_video id="J1RLFLk8REM" width="620″ height="340"]