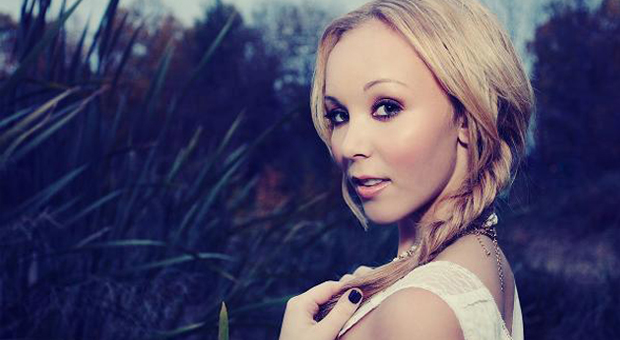 Alberta's Livy Jeanne has co-written with some of country music's finest songwriters and shared the stage with the likes of Nitty Gritty Dirt Band, One More Girl and George Canyon but when she was younger she was a victim of bullying, thankfully she found a way to survive it and now she's giving back with her You Don't Have To Be "Invisible" Anti Bullying Tour. Livy has taken the "Invisible" tour across schools in Alberta and into Saskatchewan where it has been a huge success. During each show she plays to approximately 500-600 children and she shares her personal story of her struggle with bullying and how she turned her life around by finding her passion and self worth through her music.
Top Country was lucky enough to catch up with Livy and ask her more about the "Invisible" tour and what it's been like sharing her story with so many people.
Q
Can you tell me a bit about the You Don't Have to be "Invisible" Tour?
A
The moment where I decided I was going to be starting the Invisible tour is when I heard about a girl from Quebec, her name was Marjorie Raymond, she took her life, and I just thought this is getting out of hand and I wanted to do something, hoping that maybe my message could help kids. With the tour I go in to schools — I've probably gone and talked to over 60,000 kids — and I share a little bit about my story and some songs that go with the theme of the 'You Don't Have To Be Invisible Tour' and it's just so exciting, I love doing it.
Q
Were you nervous at all about sharing your story?
A
I think in the beginning I was pretty nervous, just because I didn't know how people would react. I think I was just nervous that maybe people would think 'oh well that doesn't count as bullying' or 'maybe she just wasn't tough'. It was nerve wracking but I'm definitely happy that I did it.
Q
What's your favourite part about doing the tours?
A
At the end they always do questions and answers and I love talking to the kids and being able to interact with them and hear their stories, just hearing all about them is the most rewarding part of doing the tour. And of course being able to stay in touch with them as well.
Q
Can you tell me a bit about your song "Invisible"?
A
I wrote it when I was fifteen, we were in a writing session and one of the other writers asked what a fifteen year old girl would be going through, she was like "well my daughter, when she was fifteen she was bullied" and I just kind of had this big sigh of relief, thinking 'I can tell my story now'. The message of the song is right in your face, it's that you don't have to be invisible and you don't have to be the victim.
Q
What have you learned working with Kids Help Phone and doing these tours?
A
I think what I've really realized from doing all this is the amount of kids who have to deal with bullying, from the minimal with people bugging them and picking on them to full on where people are sending hate mail. There's just so many extremes, it's so crazy the amount of people that are bullied and the amount of people who call in to Kids Help Phone. Obviously, Kids Help Phone Line isn't just there for bullying but they're there for questions about drugs and alcohol, dealing with school and pressures at home — they deal with a lot of things. I actually didn't know a whole lot about Kids Help Phone until I started working with them and that's when I really realized how many kids call them and what they actually do.Doing the tours, like I said, you realize how many kids are going through the same things you did and at the same time it's nice to think that maybe my story is going to help and maybe they'll realize something like I did when I was being bullied. Hopefully the message will help them a bit.
Q
Do you have any plans on bringing the tours into any other provinces in the future?
A
For sure, I would love to bring it everywhere. I'm from Alberta and that's where it started, it's just a matter of trying to get there and get to the place, from point A to point B, and trying to figure out those things. But if schools are wanting to we would love to make it work and try and get out there, I'd take it as far as it would go. I didn't really realize how big it would get, I thought maybe it would just stay around my local area and then it ended up going all over Alberta and we even did a couple schools in Saskatchewan when I was there and it was just nuts. It's growing so much and I definitely don't want to put any limits or boundaries on it. I'm very excited to see how far it goes.
Q
What advice do you have for kids who are experiencing bullying?
A
I would say to talk about it, don't be afraid to talk about it, get help and even if you don't want them to fix it you've still got to talk about it because I think holding it in makes it worse. I was lucky, I wrote in a journal and that kind of helped me get through the ups and downs and getting my emotions out but I think if I had maybe asked for help or let my parents or someone else know it could have been a better situation and maybe I wouldn't have felt I needed to leave school. So I think for kids it's really important to talk about it and know that you're definitely not alone and that there's people out there who are going through something very similar to you. It doesn't matter who you are or where you come from, people are bullied and I just want them to know that they aren't alone and there's people out there who care.
[mycred_video id="w9EATkKirfU" width="620″ height="340″ amount=""
logic="" interval="" notice=""]