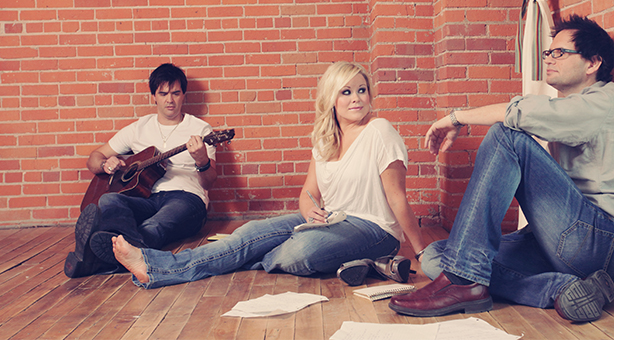 We caught up with the reigning CCMA Group of the Year, who won for the second year in a row at last month's awards show. Hey Romeo's Stacie Roper gives us an update on what's next for them and just how great win #2 felt.
Q
What does it feel like to be the CCMA Group of the Year for the second year in a row?
A
Shocked!!! Happy!! We get excited every year just to be in the top 10 groups, let alone the top 5. The other groups in this category are so talented and are among our favorite country artists. So we are very honored and very humbled that we have the support of so many people in the country music world. We managed to forget thanking our amazing producer and cowriter Byron Hill on stage, he's a big reason why we have a couple of good records, a true gentlemen as well. Also a shout out to our band, Curtis Ebner, Brad Tebble and Jim Gavin. We love making music and playing music so we are extremely blessed that people want to be apart of our lives through our songs.
Q
What's your favorite part of Country Music Week?
A
We love seeing our friends in the biz that we never get to see. This country is so huge and so full of amazing talent that getting to walk around to different venues and see other people play is such a treat for us. We love getting to reconnect with fans, with radio and other artists that live so far away from us as well.
Q
What's your favorite memory from the past year?
A
I think I can speak for the three of us when saying that there are two things that stand out the most for us. Spending a lot of time in Nashville and writing and producing with Byron Hill, writing with Carolyn Dawn Johnson, Victoria Banks and Roger Brown. We can never express our gratitude and our sincere thanks to all of them for letting us share in their talent and time. Second, being the support act for the Is it Friday Yet tour with Gord Bamford this spring. It was definitely great to go across the country and a highlight of our year. There were so many great moments musically (playing in the incredible venues, singing songs with Gord and his band until wee hours of the morning), traveling across eastern Canada in an RV) that made the journey one that we will never forget. Also we do remember Gord's sound crew pranking us on stage almost nightly!
Q
What are you most looking forward to heading into the next year?
A
Cruising the Caribbean in February I think will be one for the books. Leaving the snow and cold behind in February and hopping on a plane to New Orleans for two days and then onto Norwegian Cruise lines for a seven day trip to Belize, Cozemel and Honduras. We will be playing three times aboard the ship and then we eat, drink and relax in the sun…
Q
You've released your new single 'Maybe You Remember Me Now', when can we expect to see the video?
A
The Video is out and on CMT right now. We wrote this song with Byron Hill and it is one of our favorites on the CD. We did the video in Vancouver, BC with CCMA Video Director of the Year, Stephano Barberis. He created a very amazing, beautiful set and we hope that everyone loves it as much as we do.
TC's Quick 5
Stacie
1. Mountains or beach? – Mountains
2. Stage or studio? – Stage
3. Car or plane? – depends on how far the trip is… how about Gord's tour bus!!
4. Hank or Elvis? – Both, love them the same!!
5. Sweet or salty? – Both, I am not fussy. Haha
 Darren
1. Mountains or beach? – Mountains with the wife, Beach with the kids
2. Stage or studio? – Studio for writing and recording songs, Stage for performing them
3. Car or plane? – if I could leave and arrive at the same time as a plane I would drive. It's in my blood.
4. Hank or Elvis? – Hank Williams is the King! Elvis is number two, love his Sun records years.
5. Sweet or salty? – Salt on my popcorn, and french fries…. Sweet would be any of the great desserts my wife makes.
Rob
1. Mountains or Beach? – Beach, I live in Edmonton! Mountains are always close.
2. Stage or Studio? – Studio as it seems we are always on stage…but you can't have one without the other.
3. Car or plane? – Plane but please…make it painless.
4. Hank or Elvis? – Hank, but I loved Elvis as a kid and sang into his mic at the Sun Records studio, woohooo!
5. Sweet or Salty? – Do I have to choose? Really? I can't be trusted around anything sweet. Mud pie that my Mom makes will make you forget about anyone's problems!