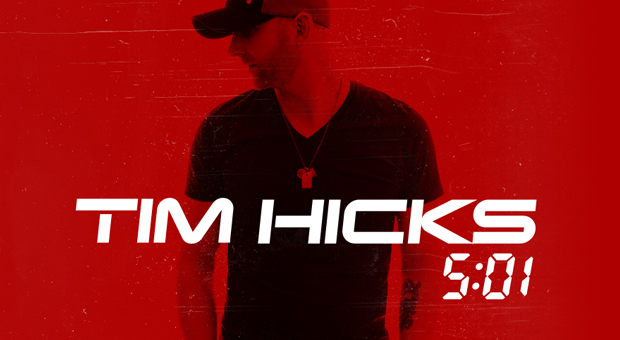 You may have heard that Tim Hicks will be releasing his highly anticipated sophomore album 5:01 on August 5, 2014 but we've got some new details for you – including the official track listing!
5:01 will feature 12 brand new tracks co-written by Hicks, Jeff Coplan (Love & Theft, Blackjack Billy) and nine other #1 writers, including Todd Clark (Phillip Phillips), Phil Barton (Lee Brice) and Preston Brust (Keith Urban), and features guest appearances by Blackjack Billy, Madeline Merlo and The Road Hammers' Clayton Bellamy.
Starting on Tuesday, Jult 8th fans will be able to pre-order 5:01 on iTunes and instantly receive the track "Dust And Bone" plus the bonus song "Rebel Lit Sky" on August 5th.
Check out the full track listing below!
5:01 – TRACK LISTING
1. HERE COMES THE THUNDER
2. DUST AND BONE
3. JUST LIKE YOU
4. SHE DON'T DRINK WHISKEY ANYMORE
5. YOU KNOW YOU'RE HOME
6. HANDS UP
7. SO DO I
8. A LITTLE DRINKALONG feat. Blackjack Billy & Clayton Bellamy
9. CALLING ALL TRUCKS
10. READY TO SAY GOODNIGHT feat. Madeline Merlo
11. MY BABY
12. TOO YOUNG TO CARE

TIM HICKS 2014 TOUR DATES
June 28 – Dauphin, MB – Dauphin Countryfest
July 06 – Ottawa, ON – Ottawa Blues Fest
July 12 – Craven, SK – Craven Country Jamboree
July 13 – Calgary, AB – Calgary Stampede
July 16 – Red Deer, AB – Westerner Days
July 19 – Bala, ON – The Kee to Bala Summer Throw Down
July 23 – London, ON – Gone Country – Rock the Park Festival
July 25 – Mattawa, ON – Voyageur Days
July 26 – Bengough, SK – The Gateway Festival
August 2 – Bowmanville, ON – Boots & Hearts Music Festival
August 3 – Edson, AB – Vision Park
August 9 – Little Current, ON – Manitoulin Country Fest
August 16 – Fort McMurray, AB – Nexen Field House
August 23 – Lucknow, ON – Lucknow's Music in the Fields
[mycred_video id="SyHe7wOO2xE" width="620″ height="340"]