Special Edition Of Award Winning Album 5:01 To Be Released September 4th Titled 5:01+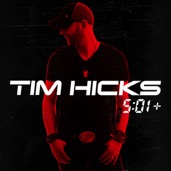 Hicks Among First Artists Announced To Perform And Kick Off The Party At The 2015 CCMA Awards In Halifax On September 13th
Toronto, ON (July 6, 2015) – JUNO nominee and CCMA Award winning country star Tim Hicks announced today the release of his brand new single "Young, Alive and In Love" (#YAIL), available at radio July 10th. Country music's voice of the working class revealed that the summertime anthem is one of four brand new tracks found on "5:01+", a special edition of his 2014 smash hit album "5:01", due out September 4th. "5:01+" also features "Here Comes The Thunder" – Hicks' fan fueled party anthem and fourth GOLD certified single.
Beginning today, fans have the exclusive opportunity to unlock "Young, Alive and In Love" as well as the singles' vibrant graphic by visiting https://www.twitmusic.com/timhicksmusic-flock-to-unlock-video-6343.
With a 2015 SOCAN Award for the high-energy hit "Got A Feeling", a 2014 CCMA award for Rising Star and two JUNO Award nominations for debut album "Throw Down", Hicks status as one of the most dynamic Canadian country acts seen this decade is undeniable, boasting five top 10 singles, nearly 4 million YouTube hits and a #1 debut on the SoundScan Country Album sales chart with the August 2014 release of "5:01". In 2013 he became the highest selling digital Canadian Country Artist of the Year for "Throw Down", and was the most played debut artist overall at country radio.
Hicks' year is shaping up to be a busy one and with the release of "5:01+", fans can expect to hear and see a lot from their favourite artist beginning with a number of high profile dates including; his 2nd Annual Summer Throwdown show at Kee To Bala on July 11th and a performance at the 2015 Pan Am Games Ontario Celebration Stage on July 20th. This fall Hicks will celebrate small towns and country fans as part of the CMT Coors Banquet One Horse Town promotion (for details visit CMT.ca). Adding to the excitement, is the hint of a major fall headline tour that is soon to be announced and on September 13th, Hicks will take the stage at the 2015 CCMA Awards in Halifax for what will be another show stopping performance amongst country music's elite.
For more information, please visit:
TimHicksMusic.com
Facebook.com/TimHicksOfficial
@TimHicksMusic
Media: www.timhicksmusic.com/press
5:01+ TRACK LISTING
1. Here Comes The Thunder
2. Dust And Bone
3. Just Like You
4. She Don't Drink Whiskey Anymore
5. You Know You're Home
6. Hands Up
7. So Do I
8. A Little Drinkalong feat. Blackjack Billy/Clayton Bellamy
9. Calling All Trucks
10. Ready To Say Goodnight feat. Madeline Merlo
11. My Baby
12. Too Young To Care
5:01+ SPECIAL EDITION TRACKS
13. Underdog
14. Young, Alive And In Love
15. Don't Wanna Go
16. Friends Around Here
SUMMER TOUR DATES
JULY
11 – The Kee To Bala – Bala, ON
20 – Ontario Celebration Stage – Pan Am Games – Toronto, ON
24 – Capital Country Fest – Spencerville, ON
25 – Hagersville Rocks – Hagersville, ON
AUGUST
2 – Kenora Harbourfest – Kenora, ON
8 – Mussel Bed Soiree – Lewisporte, NL
28 – Budweiser New Music Fest – Sudbury, ON
Media contacts:
Charlotte Thompson, Red Umbrella P.R.
Charlotte@RedUmbrellaPR.com / 416.464.8220
Shelby Burnell, Red Umbrella P.R.
Shelby@RedUmbrellaPR.com / 416.317.8023