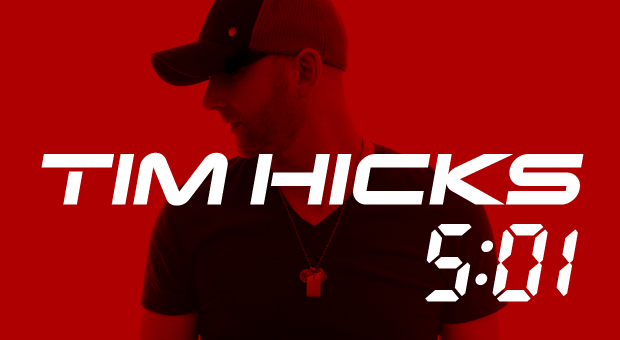 Tim Hicks' brand new album 5:01 is available now! Buy it on iTunes here.
Check out this great interview with Tim by Nicole Villeneuve:
There might be no better time to forget about work than at 5:00 p.m. on the Friday of a Canadian summer long weekend, but Tim Hicks isn't known for slacking on the job. The St. Catherines singer/songwriter calls exactly on time for our interview, and as he explains, he's no stranger to putting in long, dedicated hours over the years.
"Between June and the end of September, we're pretty busy doing the festival thing," he says. "But as busy as that is, the band and I are used to doing 22 dates a month prior to all of this happening. For 17 years, five nights a week, I did all kinds of gigs. I had a house gig in Brantford every Tuesday for 10 years. Wednesdays by myself at Grace O'Malley's in Toronto. Thursday, Friday, Saturday, I'd pick up the band. I was a working musician, so I did all kinds of gigs. I worked on cruise ships, in casinos. Any gig that I could do and keep, that's what we were doing."
Hicks made an immediate impact on the Canadian country music scene in early 2013 with the release of his debut label single "Get By," a song so catchy that you know the words by the time the chorus comes around the second time.
"'Get By' happened when I was working with Casey [Marshall, songwriter] and Neil [Sanderson, Three Days Grace] early on," Hicks explains. "They had sent me what I would call a bare-bones sketch of a song to finish. It wasn't until we turned in the official demo, and they get all the publishing info that we discovered that I co-wrote it with Florida Georgia Line. I get a call from my manager that said, 'You didn't tell me Brian Kelley and Tyler Hubbard were on this song.' I said, 'who?' He said, 'Florida Georgia Line.' I was like, 'Are you serious!?' I called Casey right away and he said, 'Yeah, that's what I told you! A couple of guys from Florida!' I still have yet to shake their hands. It was that song that really kicked this whole thing off."
"Get By," from his label full-length debut Throw Down, went on to become a top 10 country radio hit and be certified gold in Canada, and Hicks went on to be nominated for both a Juno Award and Canadian Country Music Awards that same year. It might look like an easy overnight success, but the path there was anything but a fluke.
"Casey Marshall and Neil Sanderson saw me playing at Gracey's and approached me, said they liked my voice, said they were going to write some songs and asked if I wanted to come," Hicks says. "We demoed a few tunes and they didn't even tell me, but they took those songs to Nashville and played them for Ron Kitchener, the president of Open Road Recordings. And Ron liked it. Ron had said if I did a showcase around the CCMAs maybe they'd come. So I begged this bar I played at in Hamilton to let me come in and play for free just on the whim that these guys from this label might show up. And sure enough, Denny Carr, who's their A&R rep, showed up. At the time, my wife was super, super pregnant. He sat at the table with us and said, 'Dude, you've got your hands full. Have your baby, and in the New Year, come down to Nashville and we'll see what happens.' And that's how it started. My son was 5 weeks old, and like a couple of kooky people chasing a dream, my wife and I wrapped him up and drove the minivan to Nashville. I kept going back until they said 'okay, we're going to sign you.'"
With the release of his brand new album 5:01, Hicks is already seeing signs that the U.S. might be ready to give him the same kind of love Canada did early on—Sirius XM's popular new country station The Highway has been giving his new single "Here Comes the Thunder" plenty of play.
"It's exciting and scary all in the same breath," Hicks admits. "I tried all through my 20's to get a record deal and couldn't get anything happening, so I kind of resigned myself to the fact that I was never going to make it. I was going to be happy playing in bars for the rest of my life. Then when this Canada thing came along, it was super excited and remains to be super exciting to be playing at a national level. Then all of a sudden Sirius jumps on board, and I'm getting tweets from Iowa, Connecticut, Florida, Texas, and all of these places. And it's really, really exciting. The possibility of being that kind of an artist that could cross borders is really cool."
Of course, Hicks' Canadian fans won't be going anywhere anytime soon either—the phenomenon that is "Stronger Beer" just went gold in Canada after becoming a Youtube hit. "Every now and again I'll get an email forward from somebody saying, 'check this song out it's really funny!' And I'll open it and it's the 'Stronger Beer' link," Hicks laughs.
And, he was recently nominated for four more CCMA's for 2014—Rising Star, Album of the Year, Songwriter of the Year ("Hell Raisin' Good Time"), and CMT Video of the Year (Got A Feeling ft. Blackjack Billy).
"It's super nice to be recognized. Last year was my first time, and it is also one hell of a party. Everybody lives in their bubble, being on the road, working on your record, that you don't get to interact a lot with other artists and industry. The CCMAs is a great time to get together and share those experiences and party."
Some of 5:01's songs have already been getting reactions at Hicks' ever-energetic live shows: he says the power-balladesque "She Don't Drink Whisky Anymore," "Drink Along," and the rock/pop-country leaning "Hands Up," are early fan favourites from the brand new album.
It's exciting, because you have your whole life to write your first record, and only six weeks to write your second," he says.
Hicks is hopeful about new, bigger possibilities for his career, but remains typically grounded—a major concern, the family man says, is making sure he stays present and available for his wife and two kids.
"I still need to be reminded to put my phone away, or to put the iPad away. It can be all-consuming, checking charts and replying to tweets and checking emails," Hicks says.