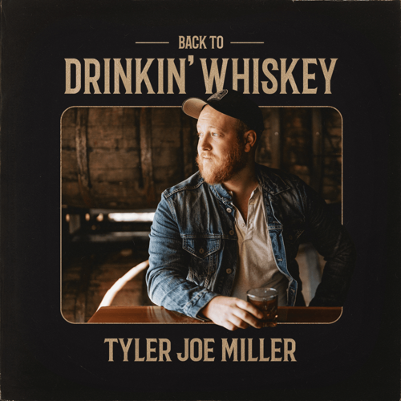 Tyler Joe Miller is back with a brand-spankin' new track and a warm reminder when love runs
out – whiskey doesn't. Hot off the heels of his charting single with Matt Lang, 'Never Met a
Beer', Miller has released 'Back to Drinkin' Whiskey' a tune he says "is a love song gone
wrong".
Penned by Miller himself along with Kelly Archer, the critically acclaimed Vancouver-based
songwriter whose written for the likes of Reba McEntire, Dustin Lynch, and Jason Aldean, as
well as Danick Dupelle, who is best known for his work as the lead guitarist of Emerson Drive,
the track delivers on expectations. Tyler's voice is robust and gruff – full of life and laced with a
zest of twang. Powered by electric guitar, this song compliments Miller's signature rustic vocals.
And the finishing touch? A garnish of silky fiddle.
Although it's clear Miller has a knack for writing a good ol' drinking song, lyrically 'Back to
Drinkin' Whiskey' showcases Miller's vulnerability and soul searching as an artist. Ironically, this
sobering track acknowledges the cycles of addiction whether your vice is a person, the bottle,
or both. In this new release, Tyler delivers the sentiment that nothing will distract you from a
heartache better than an even stronger headache. Although Miller built a name for himself with
soulful early releases like 'Pillow Talk' and 'I Would Be Over Me Too', this latest release
showcases an artist who's found his voice.
As Miller gears up for his set at the annual Boots and Hearts music festival this August, 'Back toDrinkin' Whiskey' continues to solidify his place as one of Canadian country music's brightest rising stars and that's why it's our official Pick of Week for February 17th, 2023.