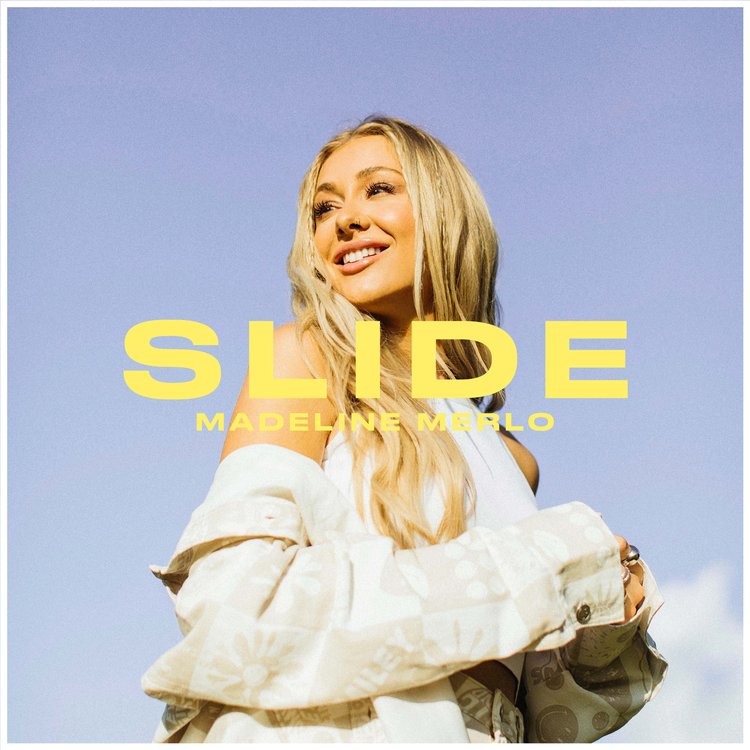 Slide is Madeline Merlo's newest charting single and the title track of her latest EP. On this record, Merlo illustrates to her growing fan base a new level of sonic authenticity as she exits the realm of emerging artists. Since her debut in 2016, Madeline has built a name for herself with lush, soft, smooth yet strong vocals. She really is a true merlot. But with Slide, we're hearing a conscious evolution. Merlo is transcending the stories she tells – embodying the idea of the empowered woman she channels in her songwriting
Merlo's killer vocals take center stage on this extended play and her first release in two years. Country twang-charged pop melodies and refined production set the tone for Slide. Each track compliments the vibrant vision of this extended play featuring energetic backup vocals, addictive building chord progressions, and sensual guitar riffs all of which are anchored by Merlo's vocal dynamism. Uplifting, yet at times brutally honest, the EP reflects Merlo's two-year journey to hone in on her own sound.
Merlo's signature light yet irresistibly moving music is elevated in her most recent release, Slide. It showcases Merlo's quick-witted lyrics which act as the ammunition of her music and landed her this headlining track. Originally composed for Sam Hunt by
himself, Jerry Flowers, and Merlo's new producer, Zach Crowell, Slide's melody emerged with feminine energy leading the team of critically acclaimed songwriters to call in Merlo. In her writing, Madeline finds a way to balance the charm of classic country tropes with modern refinement culminating in a feminine, youthful, vaguely nostalgic sound akin to the likes of Shania Twain. Contextually, the songs take us through Merlo's mid 20's – the trials and tribulations of modern romance, the ambiguity of adulthood in today's day and age, and what it means to be a strong woman.
Madeline's new work could easily be described as fierce, feminine, and fun. Slide marks a clear blossoming in Merlo's career with much of her potential as an artist still budding. With the vocal talent to bolster her strong evolving songwriting, Merlo is on course to slide to the top of the charts this year.
Available for streaming on all major platforms, "Slide" by Madeline Merlo is our official pick of the week for January 27th, 2023.
Listen here: https://madelinemerlo.lnk.to/slide