CCMA Fans' Choice Spotlight: Dean Brody
Posted by:
Top Country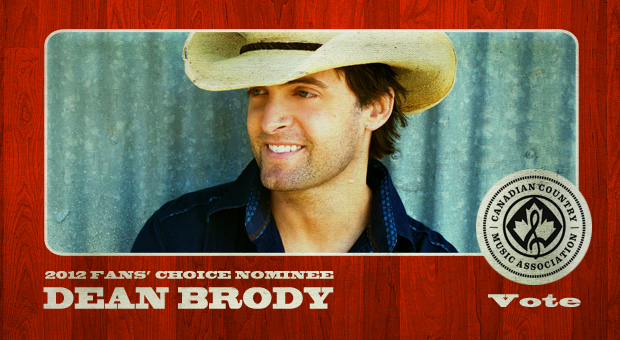 No doubt a fan favourite right across Canada, Dean Brody has been nominated for this award in previous years, but yet to take home the crown. Could it be his year? Dean's ability to connect with fans through his brilliant songwriting and vocal performances makes him a strong contender.
Dean also has the respect from his peers, including songwriter and artist, Tebey, who has written numerous hits including Emerson Drive's 'Sleep It Off' and Chad Brownlee's 'The Best That I Can (Superhero)'.

"Dean Brody is the epitome of a true country music songwriter.  He draws on his own life experiences while effortlessly wrapping them in three chords and the truth.  As a fellow songwriter I admire his songs" - Tebey, 2012 CCMA New Artist Showcase performer
Dean Brody Top 5 by Tim Day, KG Country (Red Deer, AB)  
1. Trail In Life
2. Wildflower
3. Undone
4. Dirt Road Scholar
5. Little Yellow Blanket

Vote here // CCMA Awards on CBC Live
The Ultimate Fan contest closes 11:59 AM, EST on Friday, August 24, 2012. Voting for the 2012 Fans' Choice Award closes 5:00 PM, EST on Friday, September 7, 2012.