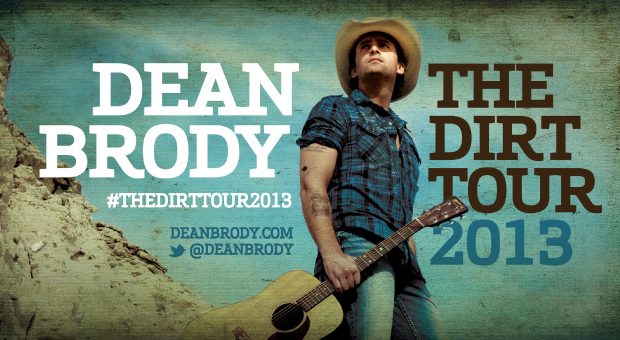 Dean Brody's SOLD OUT show at the Winspear Centre in Edmonton last Thursday had all the elements of a great country music event.
The shows' openers, Small Town Pistols, played selections from their upcoming album, set to be released on February 19th. STP, two thirds of the Wilkinsons', have left Dad at home and Amanda and Tyler have embarked on their own sibling musical journey. Songs like 'Peter Pan' and their current smash hit 'Living on the Outside', showcase their chops, which are nothing to be looked past. Amanda's powerful vocal, blended with Tyler's pure harmony is musical magic at it's finest. It's safe to say this is a sweet, new beginning for Amanda and Tyler.
Dean Brody kicked his show off with 'Dirt', the title track of his latest album and the tour, set the tone for the evening as he tore through hit after hit including 'Undone', 'Roll That Barrell Out' and 'Little Yellow Blanket', which had the crowd hanging on every word and singing along. His signature ballads such as 'Trail In Life', 'Bob Marley', and his newest hit 'Underneath the Apple Trees' really showcase just how talented Dean is as a songwriter, penning almost all of his hits himself – something rare in this business. Perhaps the coolest moment of the show is when he and his stellar band gather around a "campfire" on stage and have a singalong to some of Brody's fan favourites. It's not something that everyone sees at a country show, but blended perfectly with Brody's songs and uniqueness as an artist.
Brody closed the show with his #1 hit, 'Canadian Girls' to an applauding, enthusiastic crowd singing along with every word to their new 'anthem'.
Several shows are sold out for the rest of the tour, as Dean makes his way across our beautiful country. If you get the chance to grab some last minute tickets, this is is a show not to be missed.