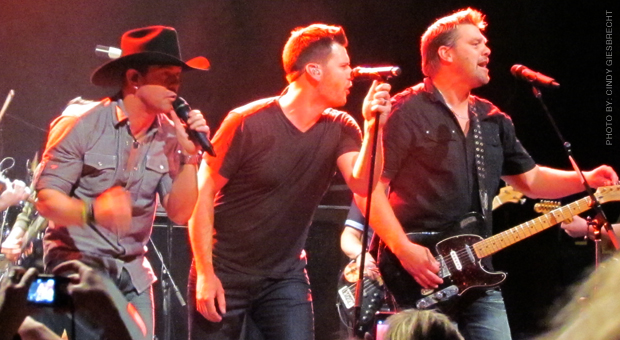 Night after night for nearly the past month Aaron Pritchett, Doc Walker and Emerson Drive brought the house down on the CMT Hitlist Tour. The show was non-stop. Literally. No intermissions and a night full of music. A true experience for any country music fan. All three acts proved just why they have been staples on the Canadian country music scene for over ten years.
Aaron Pritchett captivated the crowd and had them singing along just a few lines in. He tore through a set list filled with classics like 'Let's Get Rowdy', 'Big Wheel', and the crowd favourite 'Hold My Beer'. By the time Doc Walker took the stage just moments later, the crowd was warmed up and ready to sing along with DW hits like 'Rocket Girl', 'I'm Gonna Make You Love Me' and their new single 'Put It Into Drive'. In another quick set change, you could hear the sound of Emerson Drive's Danick Dupelle's electric guitar play the opening riff to 'That Kind of Beautiful'. The group tore through a string of their singles including 'Moments', 'Countrified', and their recent smash 'She's My Kind of Crazy' that had the crowd hanging on every word and singing along.
Perhaps the highlight of the show was though, when it came time for the encore. Emerson Drive and Doc Walker together performed their smash hit 'Let It Roll'. Then Aaron Pritchett joined the boys on stage for a country version of Coldplay's 'Vida la Vida' and then Aaron's version of 'The Weight'.
All three of these artists/groups has proven time and time again their contribution to Canadian country music. Their live shows are truly what makes them stand out.
We can't not mention the opening acts on the tour – Tebey ('Somewhere In the Country') and Tim Hicks ('Get By'), who both played on select dates coast to coast. They both proved they are the new generation of Canadian country and are here to stay.
Congrats on a successful run, boys. Mission accomplished.