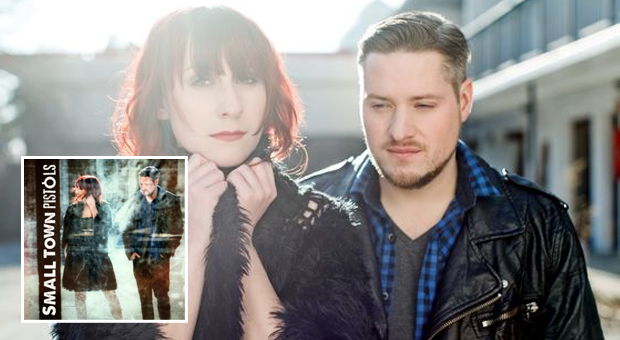 Artist: Small Town Pistols
Album: Small Town Pistols
Label: 604 Records
Rating: 4.5 / 5
Review by Henry Lees
Small Town Pistols are keeping it in the family and that's a very good thing. We watched Amanda and Tyler Wilkinson grow up before our eyes on the Canadian country landscape as two thirds of much-loved trio The Wilkinsons and now, we get to witness them stretch their sonic wings even further as a duo. After spending the late '90s and early 2000's scoring multiple hits, nine CCMA Awards, a Juno, two Grammy nominations, their own television series and playing stages from here to there and back again with their father Steve, Amanda and Tyler have become two seasoned and superb talents proudly wearing their formative years on their sleeves. Their debut as Small Town Pistols is polished, intriguingly diverse and confident even in its introspective moments. Ultimately, it showcases two young artists who have developed into top calibre musicians and songwriters.
After pursuing individual projects, spending a few years largely away from the spotlight and going through a few personal ups and downs, Amanda and Tyler responded to the nibbles of the songwriting bug and started working on what would become their new chapter. Rekindling what was familiar to fans of The Wilkinsons would have been an obvious and possibly easy choice but, their new material was different, more mature and called for a new creative incarnation that Vancouver's 604 Records (Carly Rae Jepsen, Dallas Smith, Jessie Farrell) helped to shape. "All Small Town Pistols stuff comes from a far more mature place for both of us," Tyler said in a recent interview with the Canadian Press. "There are certain things that people might find weird to sing with your dad in the band." Of course, papa Steve is still very much a presence with familial and creative support, co-writing three of the tracks on the album including SMTP's latest chart climber, "Living on the Outside." This is Amanda and Tyler's opus however, and their writing talents adorn every single track but one.
A knock-out lead single brought Small Town Pistols to our attention with a bang last year, garnering a 'good-on-ya' YouTube greeting from Keith Urban no less. "Colour Blind", co-written by Amanda, Tyler, Joey Moi and Jeff Johnson and recorded/produced by Moi (Nickelback, Tim McGraw, Daughtry, Florida Georgia Line, Jake Owen) in Vancouver and Nashville, is a big, sunny slice of country pop with a guitar/mandolin hook and powered up refrain that take precision aim at the cerebral cortex. When Amanda and Tyler belt out the chorus and their fluid harmonies reach for the stratosphere, we're taken along for the joy ride. It's hands down one of the top five best country singles of the past twelve months.
"I'll be the blue in your skies just to show you the world's not black and white, and love's not colour blind."
From then on, Small Town Pistols continues to cover colourful ground. Broken hearts, the call of freedom and the turmoil of change all inform what's found on this collection. Striking a patriotic chord, it's also full of collaborations with a host of other Canadian artists including Emerson Drive's Danick Dupelle, Patricia Conroy, Jessie Farrell and Hot Hot Heat's Steve Bays. Shining examples include the hook-laden third single "Blame It On The Radio", co-written with Dupelle, the bold, driving and beautifully sung "Anthem of a Runaway", co-written with Conroy, and the galloping, dramatic "Walk Tall", co-written with Bays. Another big favourite is the gorgeously atmospheric ballad, "Peter Pan", co-written by Amanda, Tyler and Alyssa Bonagura. Amanda has said the song was inspired by the break up of a long term relationship and she infuses every note with the devastation of loss and the resolve of moving forward.
"But there's more to a girl then fighting and crowing and flying. I'm leaving Peter Pan."
Most of the tracks on Small Town Pistols were produced by multi-talented Canadian David Kalmusky, a long time Wilkinsons collaborator who also plays a number of instruments on the new album. Even with two tracks produced by others, Kalmusky has bound together a cohesive and rich package, putting Amanda and Tyler's stellar vocals centre stage where they belong. Amanda has always been held in high regard for her seriously impressive vocal prowess and it's better than ever on this effort. It's also wonderful to hear how Tyler has grown into a nuanced and dynamic singer in his own right as evidenced on the smooth, ethereal "Easy as Breathing." Stick it out at the end of this satisfying album for a moving, hidden a capella treat as well.
Releasing two successful singles so far, spending part of February on Dean Brody's majorly popular Dirt Tour and booking some high profile festival gigs this summer show that there is significant industry attraction for Amanda and Tyler's new project. Plus, a built-in, enthusiastic fan base with 15 years of nurturing will certainly help ensure that Small Town Pistols will be much more than a one-shot deal.
Damn, we grow 'em talented in Canada don't we?
[mycred_video id="5WsnD3jtWoc" width="620″ height="340"]