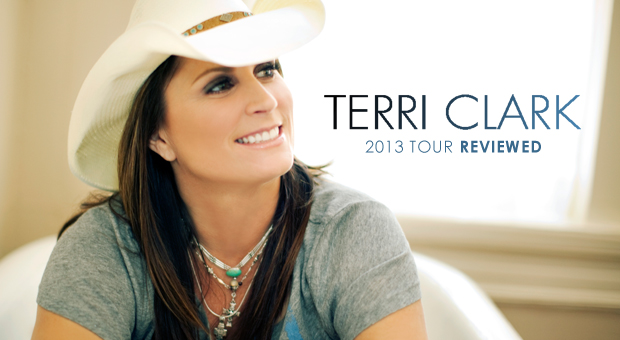 Review by Katherine Colwell
There is a reason Terri Clark played not one, but two sold-out shows Sunday at Festival Place in Sherwood Park, Alberta, she is- in a word – Classic. The only Canadian female country artist to be inducted into the Grand Ole Opry, Clark weaved together a set list that featured a collection of songs spanning her two decade career, as well as songs off her new album, Classic, Clark's take on the songs that inspired her to become an artist. Clad in a green leather jacket, fitting as the show was on St. Patrick's Day, and a cowboy hat in typical Clark fashion, the Medicine Hat native opened with the classic 'Love Is a Rose' originally performed by Linda Ronstadt. After a string of her own hits, Clark snuck off stage only to reappear in her long, pink, beaded Opry jacked in front of a projection of the Grand Ole Opry stage. The member shared the story of how she approached the Opry telling them wanted to recreate a one of the world famous WSM Grand Ole Opry microphone stands; wanting to bring a piece of the world famous stage to those of us north of the border who "may never get to experience it for ourselves." In response, to Clark' suggestion the Opry told her to just "take one with her," and so there it stood, the finishing touch to set the mood for Clark's take on the classic tunes. After her set of Classics, the multiple CCMA winner, brought out a steel guitar for her hit 'Gypsy Boots' before busting out a white acoustic guitar featuring a Canadian flag and red maple leaf amongst cheers from the crowd.  Clark closed the show with the 'Northern Girl' a song that has resonated with many Canadians, before finishing her set with her first single, and smash-hit, 'Better Things to Do', and an encore featuring 'We're Here for a Good Time'.
Equally as impressive was Kira Isabella, the 19 year old from Ottawa, Ontario proved why she is the 2012 CCMA Rising Star. Off a string of four successful singles, the Canadian sweetheart with a powerhouse voice performed her hits 'Love Me Like That', ' A Real Good Radio' and 'Songs About You', before giving the crowd a preview of her next single 'Blame It On Your Truck',  Isabella then shared with the crowd her dreams of a big white wedding before belting out the heartfelt ballad 'Little White Church' a notable cut off her debut album that was released last October. Backed by two acoustic guitarists, Isabella closed her set with her up tempo, two-tapping hit single, 'A Little More Work' showing the young star is just getting started.