CCMA Fans' Choice Spotlight: Hey Romeo
Posted by:
Top Country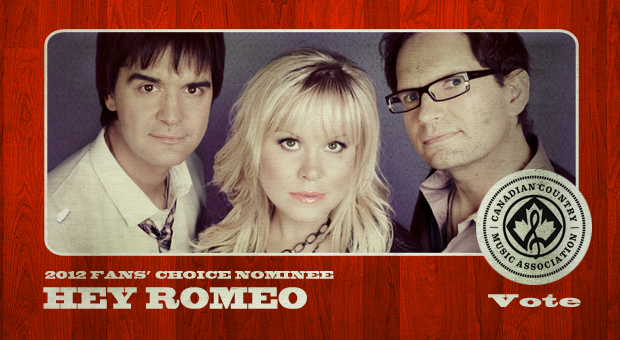 2012 marks the first year that Hey Romeo finds their spot in the CCMA Fan's Choice category. Underdog? Maybe. But don't underestimate Hey Romeo – they did after all take home CCMA Group of the Year at last years' awards, beating out heavy weight acts Doc Walker and Emerson Drive.
Their hit songs include 'Searchin' For You', 'Second Hand News', and the latest summer smash 'Jump Back In', from their new album Twist of Fate. Will the underdog come out on top again? That's up to you.
"A group who's personalities are just as compelling as their music!" – Stella Stevens, 790 CFCW Afternoon Drive Announcer (Edmonton, Camrose AB)
Hey Romeo Top 5 by Stella Stevens, 790 CFCW Edmonton, AB
Sorry That You're Leaving
Searchin' For You
Second Hand News
I Got Nothin' (w/ Darren on lead vocals)
New Tradition (Christmas Song)

Vote here // CCMA Awards on CBC Live
The Ultimate Fan contest closes 11:59 AM, EST on Friday, August 24, 2012. Voting for the 2012 Fans' Choice Award closes 5:00 PM, EST on Friday, September 7, 2012.