Exclusive! Gord Bamford answers Top Country questions
Posted by:
Casadie Pederson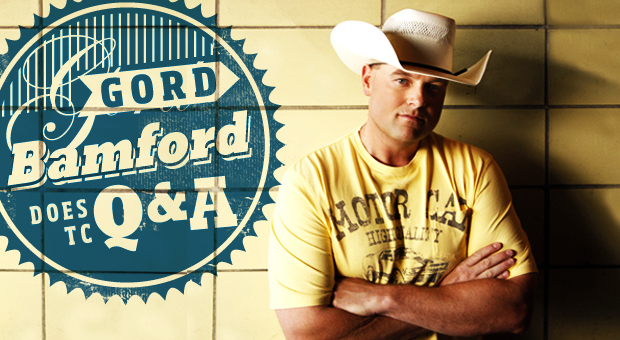 The Top Country Artist of the Month for June 2012, country star Gord Bamford, took some time recently to answer our no-holds-barred, shoot-from-the-hip, tell-us-a-bit-about-yourself type questions.  So let's get to it. When you are done reading this you will know just a bit more about Lacombe, Alberta's favorite country singer.
What are your top three favorite foods?
GB -  Sushi, Steak, & Mexican
What are your top three all-time favorite songs?
GB – 'That's The Way Love Goes' – Merle Haggard, 'If Tomorrow Never Comes' – Garth Brooks, 'Neon Moon' – Brooks and Dunn
What is your all-time favorite quote?
GB – "Risk Is The Price You Pay For Opportunity."
What is your all-time favorite song lyric?
GB – "God is great beer is good,and people are crazy."
Who are your three favorite songwriters?
GB – Byron Hill, Merle Haggard, Alan Jackson.
3 favorite authors?
GB – Don't read a lot of books.
3 favorite sports?
Baseball, Hockey, Football.
Bob Dylan or Elvis Presley? Why?
GB – Elvis, never listened to much of either but have been to Graceland and learned a lot about Elvis. The man was a true icon and superstar.
Dwight Yoakam or Steve Earle? Why?
GB – That's a tough call. Probably Dwight as I would have listened more to his stuff. Obviously Dwight was able to develop a unique sound and define himself as a one of a kind type artist, as did Steve Earle.
Who do you wish you could have seen in concert?
GB – Waylon Jennings.
Mountain or beach?
GB – Mountain, for sure.
Wine or Beer?
Both.
Top 3 favorite DVD rentals?
GB – Major League, Old Yeller, Money Ball
What is your favorite sport?
GB – Baseball.
Stage or studio?
GB – Stage.
If you were stranded on a desert island what 3 record albums would you want with you?
GB – Merle Haggard – Greatest Hits, George Strait- Greatest Hits, any Eric Church or Blake Shelton
If you could be anything besides a singer, what would you be?
GB – Major League baseball player was one of my dreams.
What is the best advice you were ever given?
GB – I was always told to treat people the way I would like to be treated and remember those that you kick on the way up could be kicking you on your way down.