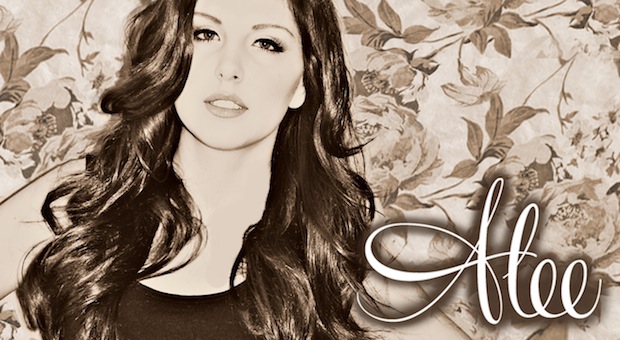 Newcomer Alee recently hit Top 25 on the Canadian charts with her single 'Don't Say You Love Me'. Let's get to know her a bit better.
Q
What is the story/inspiration behind 'Don't Say You Love Me'?
A
Where do I even start… the song came to be years ago now. It was a time in my life where I had finally let my guard down, and began to really trust somebody. I like to think the best of someone, no matter what — and to this day I still love the person, but things happen. Those are the times where you just need "a song to eat Ben & Jerry's to", and move on. I came home one night, couldn't sleep, grabbed a notebook and started writing words down. It wasn't until later on that I actually sat down at the piano, and put the words to a melody. "Don't Say You Love Me" helped give me the strength to let go.The story lives on, too… I've been getting messages from numerous people who've heard the song on their local station, explaining their story, and how DSYLM came at the perfect time in their life. Writing the song definitely helped me – but it truly becomes a life changing experience when it goes one step further, to help someone else.
Q
Describe the feeling when you heard your single went Top 25. A rare feat for an independent artist.
A
Honestly?… I don't think it's hit me yet… haha! It's an honor to be recognized and seen as part of the Canadian country music industry. I've been working a long time for this, and there's so much more yet to do….it's all about the little victories.
Q
Is there an album in the works?
A
YES! It's coming… I don't like to just jump into things – have to wait for it to feel right. When I stepped into MCC Studios in Calgary a few years back, and met Dave Temple & Johnny Gasparic (Johnny 6Pak – who produced/engineered the album) I undoubtedly knew it was where the recording process, and all it's magic, would take place. The album is filled with songs I wrote, including a co-write, with Emma-Lee and Karen Kosowski, that never fails to amaze me. I was fortunate enough to have a group of unbelievable musicians jump on board, too, and oh man was it ever mind-blowing to hear them in a room together! Everyone who was part of the project made it what it is, and I cannot wait to share! There's already been three charting singles off the album, and it's not even out yet…so I guess you can say 'slow and steady' has paid off, thus far! Watch for "This Road Goes Everywhere" this Summer!
Q
What is your most memorable moment to date in your career?
A
There have been so many firsts over the past few years. When I was 16, I went to Nashville for the very first time – I was invited backstage to a Grand Ole Opry show one night, to watch, and hang out with some of country music's best, including Little Big Town, Jimmy Wayne, and George Hamilton IV. If that experience doesn't make you want to pursue music further, I don't know what does! The excitement continued when I got off stage after playing in Pigeon Forge, TN, and Linda Davis (Country music legend & mother of Hillary Scott – Lady A) came up, and said nothing but kind words to me, and my little sister (she's my secret weapon) – only in Nashville! Aside from that, I think the whole build up to where I am today has been memorable…just when you think it's as good as it gets, life surprises you again. I'm thankful for all I've been able to do and accomplish.
TC's Fun 5
1. Dream duet parter? – Blake Shelton. I love that man.
2. Favourite clothing item? – I guess it depends if I'm at home or going out. Sweatpants are the best clothing item ever invented if you're staying in. Otherwise, cowboy boots, easily!
3. Song you wish you wrote? – Do you know how hard that is?! 'It Is What It Is' of the new Kacey Musgraves album.
4. Favourite sports team? – I think I'm required to say the Edmonton Oilers?…. but I love watching a good game no matter the team, preferably hockey.
5. Specialty dish you cook/bake? – That's a good toss up between spring rolls and hot wings…. and now I'm hungry!
[mycred_video id="vi5kKnPzG70″ width="620″ height="340"]